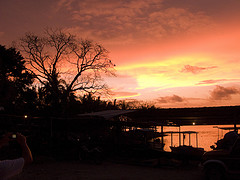 Each one of us aspires for a nice, relaxing holiday with friends and family away from home. Holiday is a time when you break free from your mundane but hectic routines for a while, chit chat with you spouse, and connect with your kids and spend quality time with them. After all, who wouldn't want a nice romantic holiday at one of the finest beaches in the United States or an adventure packed vacation with kids at Walt Disney Resorts? All thanks to the "all inclusive vacations", it is now possible to have a good time at one of the most popular weekend getaways that too on a budget. Tourism is a booming industry and there are thousands of travel agents out there who are willing to give you the best deals at some of the finest holiday spots in the country and abroad.
In fact, Costa Rica is a great vacation destination. You might consider an all-inclusive vacation to Costa Rica.
All inclusive vacation packages allow you to plan a holiday any time of the year. Such packages are designed to fit all kinds of pockets and offer a vast range of accommodations. There are beaches and heritage hotels ready to lure you with excellent packages that usually include travel, adventure sports, food packages, and of course unlimited premium drinks too! More comprehensive vacation packages would also include transport, hotel taxes, and even insurance to protect you from natural hazards. If you get lucky, you could find a package that includes tips as well.
The latest offering of all inclusive vacation providers is "family cruises". If you plan individually, cruising can be extremely expensive. However, through exclusive deals offered by cruise lines, you can have a truly exciting and a memorable holiday with your near and dear ones. Such deals guarantee business to cruise lines even during off-season.
You can also opt for vacation homes where you can spend a long vacation at your favorite destination under all-inclusive arrangements. Many people go for yachts and exclusive beach resorts to spend time on a secluded spot. Another option is to stay in one of the luxurious villas that take care of all your travel needs at affordable costs. Owing to the stiff competition, tour operators are willing to give huge discounts on all inclusive vacation packages that would allow you to plan a long vacation or even add another nearby destination in your itinerary.
With such a huge range of all inclusive vacation options available these days, it pays to plan in advance. You can scout the Internet to search for inexpensive packages at some of the world's finest tourist destinations. You can also specify your budget and look for only those packages that suit your pocket and your holiday needs. You will usually get the best deals if you plan a vacation during off-season. Usually, an all inclusive vacation includes air travel expenses for travel during midweek and can thus help you save a good deal of money. Such packages work on a "the more the better" principle wherein you save more if you include more in a package. So, let your package include everything from food, drinks, and activities to transport and accommodation to get the best deal!!