TripAdvisor, the world's largest travel community, has revealed its top 10 bargain or "cheap" outdoor ice skating rinks in the United States. If you are traveling anytime this winter season, check out these ice rinks. Not only are they easy on your wallet, they are pretty cool to skate at.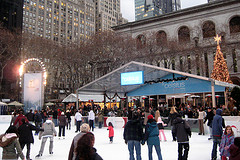 1. Midtown Masterpiece: The Pond at Bryant Park, New York City
Located in the heart of Manhattan near Times Square, this winter attraction is a great time and an excellent bargain – in fact, it's free if you B.Y.O.S. (bring your own skates.) Travelers seeking a break from the city's hustle and bustle can people-watch, grab a bite to eat at the restaurant overlooking the rink or explore the surrounding shops. Skate rental is $12.
2. Valley Adventure: Curry Village Ice Rink, Yosemite National Park
While admiring some of Yosemite's natural treasures, why not take it to another level – on skates? Starting mid-November and lasting until mid-March, adventurers can glide on the Curry Village Ice Rink for $11 (skate rental and admission.) According to one TripAdvisor traveler, "We went ice skating at the outdoor rink located in Curry Village – it was a blast and the backdrop of Half Dome was amazing."
3. Hip to Be Square: The Rink at PPG Place, Pittsburgh
On sunny days, this square rink in downtown Pittsburgh sparkles – it's surrounded by the glass towers of PPG (Pittsburgh Plate Glass) Place. Rink admission and skate rentals are $10 total – or join the local office workers who buy monthly lunchtime passes for $25. One TripAdvisor traveler suggests, "The ice skating rink at PPG Place is a lot of fun – if you go early in the morning, you may be the only one there."
4. Inspiring Ice: Sculpture Garden Ice-Skating Rink, Washington D.C.
Get high marks for artistic impression even if you're the world's clutziest skater – here you're in the middle of amazing sculptures. Located at the National Gallery of Art and costing $10 (skate rental and admission), this rink also features an excellent sound system that will have any skater cutting it up.
5. Millennium Magic: McCormick Tribune Place and Ice Rink, Chicago
Free to anyone bringing their own skates and offering stunning city views, this rink attracts more than 100,000 skaters every year. (Skate rental is $10.) According to a TripAdvisor traveler, "For those from warmer climates, the chance to go ice skating outdoors in such a great setting is a rare treat."
6. Beantown Blades: Boston Common Frog Pond, Boston
Whether you enjoy hitting the ice or just taking in the picturesque New England winter landscape, the Boston Common Frog Pond is a fantastic rink to visit. To ensure visitors don't get too chilly, the rink features a warming area and a snack bar with hot menu items. A TripAdvisor traveler suggested, "If you can brave the cold, you should go skating at the Frog Pond on the Common, it's very fun and very romantic." Ice time with a skate rental costs $12.
7. Legendary Lace-up: Olympic Speed Skating Oval, Lake Placid
Host of the Winter Olympics in 1932 and 1980, Lake Placid is home to many athletic legends. To get a small taste of what it's like to be an Olympian, visit the Olympic Speed Skating Oval. Travelers can skate on the same rink as legends like Eric Heiden – winner of five gold medals during the 1980 games. The price to hit the ice and rent skates is $10.
8. SoCal Cool Down: Downtown on Ice, Los Angeles
Tired of looking at celebrity homes? Seeking something really cool to do in L.A.? Head over to Pershing Square and grab some ice time and skates for just $8. Not only are you sure to have a blast, you might even get a killer tan! According to a TripAdvisor traveler, "I'd recommend going during a weeknight to avoid the crowds. It is a lovely little scene with vendors selling hot chocolate and hot dogs."
9. Cincin-ice-ati: The U.S. Bank Ice Rink on Fountain Square, Cincinnati
Located in the heart of Cincinnati, this rink offers a peaceful way to spend a couple of hours on a brisk winter day. Aside from the fun of zigging and zagging on this rink, one of the best reasons to visit this slippery attraction is its price. At just $2.50 for admission and $2.50 to rent skates, the Ice Rink on Fountain Square is an outstanding bargain.
10. Rocky Mountain Glide: The Ice Rink at One Boulder Plaza, Boulder
Nestled among various quaint shops and restaurants, The Ice Rink at One Boulder Plaza is a wonderful place to relax and have fun. Ice time and skate rental is normally $9, but if you visit on Tuesdays between 2-7 pm, it's only $4.
TripAdvisor polled 1,600 travelers on tripadvisor.com. Of those 1600 travelers, 75 percent have skated outside. In a different poll of more than 1,350 travelers, 39 percent said that they never fall when they ice skate: 18 percent said they fall at least ten times.