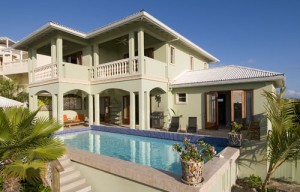 When it comes to vacationing with a large group of people, be it friends or family, cost is always a consideration that's at the forefront of everyone's minds. Accommodation and airfare are two of the most prominently expensive costs incurred when it comes to vacations and so anything you can do to save money would be welcome by all involved. One of the best ways to save money on a large group vacation is by renting a villa for your trip. Villas are more than just vacation homes away from home – they provide luxury and function that everyone can enjoy. Better than trying to break up a large group into multiple hotel rooms and having to deal with additional costs for laundering and food, getting a villa is really the way to go. Villas are self contained and full of all the creature comforts that we're looking to enjoy when we vacate. Most villas come with big bedrooms that have ensuite bathrooms, large living spaces and dining rooms for group fun time, well equipped full functional kitchens and laundry rooms that are spacious and good for cleaning up messes.
Some villas even come with pools so that if you wanted, you entire vacation can be spent in the comfort of your villa without having to leave the house other than to stock up on supplies. Some villa rentals also offer housekeeping services so you, your friends and your family can enjoy the thorough vacation experience without worrying too much about cleaning up behind yourselves. One of the best things about villa rental too is that with the right realtor, if you stay for an extended period of time, you will often be offered a couple nights and days extra for free! Before you pack everything up and head for your super villa vacation, there are a couple things you should do before you leave to make sure your vacation goes smoothly. Let's have a look:
A place for everything…
When you're leaving your home for any great length of time, it is in your best interest to put your valuables in storage. Even with a house sitter, you can't anticipate acts of nature that may or may not damage the items you've spent your life working for. With excellent companies like usstoragesearch.com, you will be able to access professional storage options that are affordable. This way, you can enjoy your vacation without worrying about your things back home.
Insurance assurance…
No matter where you go and for how long, it is a good idea to get some travelers life insurance. When you're moving with a big group, you will have the chance that people get sick all together and if even hurt altogether. Travelers insurance is a good way to make sure that you have cash and opportunity to take care of any medical bills or medicines that you need to get better as soon as possible. Look online for more advice or even speak with your current insurance agent for options that you can use to make this trip a safe and happy one.