HotelMapper.com has released the results of hotel reservation trends for the first half of 2013. As the data suggests, beach destinations are the most popular, followed by the cities of New York and Los Angeles. Travel to Europe and theme park destinations are actually showing a decrease over the last 12 months.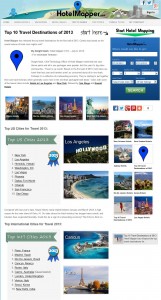 The top U.S. Cities as Travel Destinations for the first half of 2013 are:
1. New York
2. Los Angeles
3. Honolulu, Hawaii
4. Washington, DC
5. Las Vegas
6. Phoenix
7. Dallas-Fort Worth
8. Orlando
9. San Francisco
10. San Diego
Compared with last year's data, Hawaii Hotels nearly tripled between January and March which is high season for the main island of Oahu, HI.
Top International Cities for Travel 2013:
1. Paris, France
2. Madrid, Spain
3. Rio De Janeiro, Brazil
4. Cancun, Mexico
5. Rome, Italy
6. Cairns, Australia (Queensland)
7. London, United Kingdom
8. Venice, Italy
9. Seoul, Korea
10. New Delhi, India