Columbus Downtown Development Corporation (CDDC)/ Capitol South, private non-profit development organizations responsible for implementing the Downtown Columbus Strategic Plan, announced today Columbus Commons and Scioto Mile will officially kick off the 2012 season over Memorial Day Weekend, May 24-27. These two new urban parks in the heart of downtown Columbus, Ohio, have transformed the city's aging core into a walkable urban community and have played a major role in boosting the economic health of this now thriving downtown. Amy Taylor, COO of CDDC/Capitol South, made the announcement.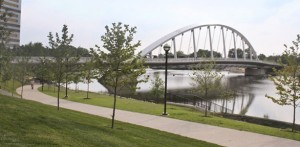 Through an unprecedented partnership between the public and private sectors, CDDC/Capitol South raised more than $70 million to develop these two parks, which now serve as community gathering places for locals and a sought-after destination for visitors from across the country.
Columbus Commons was developed on the site of the former 1.2 million-square-foot, three-story City Center Mall, which became vacant in March 2009; Columbus Commons opened to rave reviews in May 2011, attracting more than 300,000 visitors in its first year. This year, park managers hope to double that number with more than 230 planned events.
A unique feature of the park is that six of its nine acres sit atop the subterranean parking garage that was connected to City Center's structure and now serve as one of the largest functional green roofs in the United States.
Columbus Commons also offers attractions that appeal to visitors of all ages. At the southern end, guests can travel the downtown skyline on the one-of-a-kind carousel, featuring such characters as a princess horse, frog prince and Ohio State University horse and chariot, all hand-carved by Ohio artists at Mansfield's Carousel Works. Families can also visit the outdoor reading room which offers free Wi-Fi access and is stocked with hundreds of adult and children's reading materials by the Columbus Metropolitan Library. Each Friday between Memorial Day and Labor Day, the Book Mobile visits the reading room and a number of events are hosted in conjunction with the library's summer reading program. New in 2012, visitors can enjoy concerts from local, regional and national acts at the Columbus Bicentennial Pavilion, the signature capital project for the city's 200th year and crowning glory of Columbus Commons. The exclusive pavilion design features a one-of-a-kind, white tensile fabric canopy structure with a 40-foot by 60-foot stage equipped with state-of-the-art lighting, video and sound equipment. Guests can also enjoy the delectable fare served by the locally owned cafes situated at the south end of the park, Burgers Dogs & Fries and Pizza by Lola.
In addition to its many permanent attractions, Columbus Commons will host more than 230 events, many of which are free and open to the public this season, including: Picnic with the Pops, a summer orchestra series; Shakespeare in the Park; an outdoor film series; summer music tours at the Columbus Bicentennial Pavilion featuring local, regional and national acts—kicking off on May 24 with a FREE performance from nationally-acclaimed singer-songwriter Michael McDonald (formerly of The Doobie Brothers and Steely Dan); Fit Club recreation classes, including kickboxing, yoga, bootcamp and zumba; Family Fundays and many more.
Just 1.5 blocks away, Scioto Mile is a linear 11-acre urban park stretched along the downtown Columbus riverfront that opened in July 2011 and drew more than 500,000 people in its first year. A dream of the community for more than 35 years, Scioto Mile serves as a connector for the city's best parks, boulevards, bikeways and paths. Its centerpiece feature is the world-class, 15,000-square-foot Scioto Mile Fountain, an architectural marvel and interactive play area that shoots jets of water 75 feet in the air from its circular center blossom. In addition, visitors may also enjoy comfort food from Milestone 229, a state-of-the-art, glass-enclosed restaurant with a one-of-a-kind covered outdoor dining terrace in the heart of Scioto Mile. Serving as an architectural icon along the riverfront, the building design includes roof-top solar panels to help power the fountain and restaurant.
Scioto Mile is also host to several FREE events that are open to the public, including: Rhythm on the River, featuring bluegrass, blues, ballet performances and more; and Movies on the Mile.