It's never been easier to go on holidays to Majorca from the UK – with more airports than ever offering international flights and flight prices dropping all the time, holidaying to the Balearic Islands and sunning it up in the Mediterranean.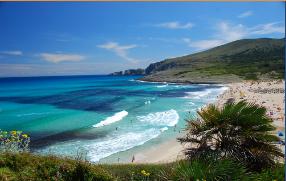 Now that getting there is simpler and cheaper than ever, it's the perfect time for families to venture abroad. Majorca, or Mallorca as it's known in the island's native language of Catalan, has seen tourism levels grow steadily since package holidays became popular in the 1950s and now has many high quality tourist amenities, such as stores selling British products and newspapers to restaurants with menus that might be more palatable to young taste buds who are missing their fish fingers and chips. The island has many "children only" areas scattered throughout which allows families to enjoy their holiday alongside others trying to do the same and many local hotels and resorts offer special rates for families, or have a "children stay free" policy.
Majorca might be famous for its beautiful beaches and lively nightlife, but there's no shortage of things to do that don't involve sand and clubs. The island hosts a variety of festivals year round and many of them are catered specifically to children and families – during the first weekend of September, the Santa Margalida festival sees children dress up as little devils and try to spook and prank the adults while young girls are encouraged to ride on the parade floats wearing the costume of the festival's patron saint, Santa Catalina Tomas.
Majorca has its own waterparks, with Aqualand Mallorca on the El Arenal beach offering a family friendly experience and Western Park, with its Wild West theme, allowing your little cowboys and cowgirls to enjoy the wide variety of attractions and rides the park has to offer. If you'd prefer to be beside the sea side, there are plenty areas of Majorca's extensive beaches set aside exclusively for family use.
With many travel agents and online deal websites offering great deals on holidays to Majorca from the UK and with your family's every need catered to, Majorca is a great destination choice for your children's first holiday as they can have all their home comforts while exploring all Spain has to offer.